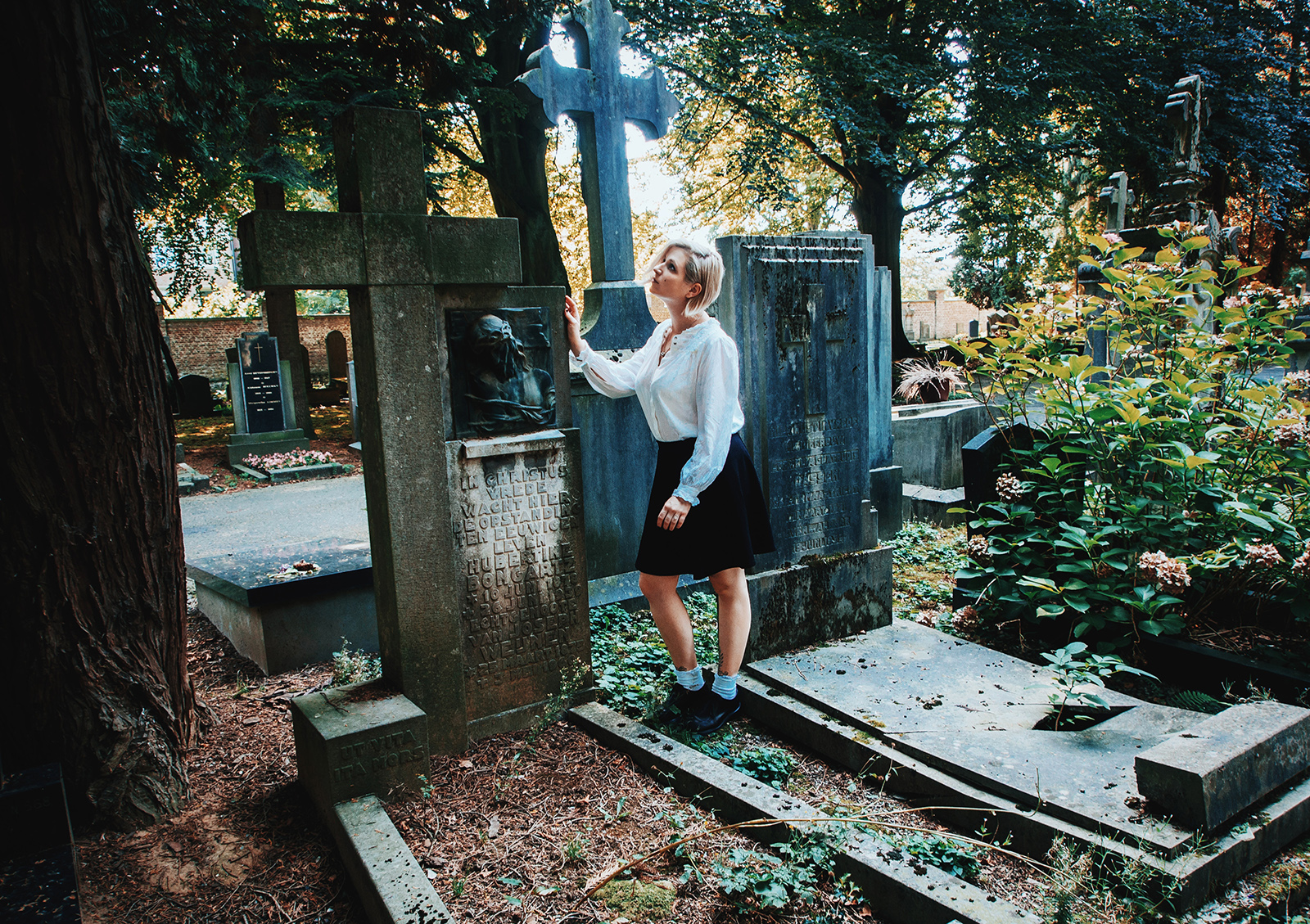 Selfies in cemeteries: black tourism in the Netherlands
[ad_1]
Black tourists in search of the Netherlands' meanest tales raise ethical questions about the commodification of some of the country's most solemn sites. But condemning the practice without taking its context into account, some say, misses the point.
Amsterdammer Claudia Crobatia has visited many cemeteries, but mostly as a tourist rather than in mourning.
"It's the closest thing to the mystery of death itself," says the death awareness coach, who founded A Course in Dying in 2016 to help reconcile people with their own mortality. "There is a silver lining that these places can tell us a little more about the meaning of all of this and what happens when we die," she told DutchNews.nl.
With an archive of cemetery reviews, as rich in Gothic atmosphere as in historical detail, Crobatia is one of the Netherlands' most curious black tourists, sharing her unique aesthetic with over 13,000 Instagram followers. She speaks of feeling "a sense of inspiration and awe" on her bizarre expeditions, which recently included the discovery of a rare cadaver monument at the grave of one of her ancestors. "To me, these places are so special, so I really want to share them with other people as well," she says.
What is black tourism?
Black tourism or "thanatourism" is the practice of visiting sites associated with death and suffering. Here in the Netherlands, dark destinations range from the hammered horror of the Amsterdam Dungeon to poignant memorials such as Kamp Westerbork in Drenthe, where from 1940 to 1945 the Nazis detained Jews and Roma before taking them. deported to death camps in Germany and Poland. .
The term "Dark Tourism" is believed to have been coined in 2000 by academics Malcolm Foley and J. John Lennon in their publication Dark Tourism: the attraction of death and disaster. But the phenomenon is nothing new. Until the 1790s, rowing through IJ harbor to Amsterdam Noord to witness a public hanging was a popular day trip, and from the 16the-19e century, the Anatomical Theater of the University of Leiden drew groups of spectators into its cabinet of curiosities and the central spectacle of human dissection.
The ethics of black tourism
Crobatia is well aware of the stigma associated with black tourism. "When people hear that I'm taking photos or creating videos or content in cemeteries, they're a little afraid it's going to cross one of those lines of respect," she says. "But when they see my work, they see it's just a beautiful document of the place itself and the history." "I am always very careful not to take pictures of very recent graves," she explains. "I don't want to trigger the family of someone who recently lost someone."
Charley Boerman, lecturer on tourism ethics at Radboud University, believes the code of conduct for black tourists is further complicated by the packaging of many sites of suffering, like the Anne Frank House, as tourist destinations. Justin Bieber's controversial comment in his 2013 guestbook that Anne was "a great girl" who hopefully would have been "a believer" (her fan), is a good example, says Boerman, of the challenge. to reconcile what she describes as "the weight of the holocaust and the symbol of this house" with an experience that is now at the top of the tourist list.
"These sites that feel very sacred are also subject to standard tourism practices such as taking a selfie and locating a site's iconic symbol to communicate to your followers that you've been there," Boerman said. "If this is a very important experience for you, you would want to take a photo," she admits, but your intention is key. 'The problem with a selfie [at a Holocaust memorial site, for example] do you stand at the center of a site that commemorates six million. '
When you come to @ AuschwitzMuseum remember you are at the site where over a million people were killed. Respect their memory. There are better places to learn to walk on a balance beam than the site that symbolizes the deportation of hundreds of thousands to death. pic.twitter.com/TxJk9FgxWl

– Auschwitz Memorial (@AuschwitzMuseum) March 20, 2019
What makes a black tourist?
Of course, not everyone who visits a place of death or suffering is a black tourist, says Boerman. 'At the Holocaust monument [in Amsterdam] there were people like me who were interested, she recalls, but there were also entire families with lists of names that could finally pay homage to their loved ones and ancestors.
In contrast, die-hard black tourists often chase the scary or seek some sort of spectacle. "Part of the appeal is thrill seeking and voyeurism, but a lot of other people also say they go because they want historical understanding and empathy with the victims," says Boerman. "I have also read stories of people who really seek that feeling of overwhelming sadness that you can feel when you are at a memorial site, almost pursuing that feeling as if it is a life-changing experience to be faced with. something so excruciating, so big or so sad.
In this way, some black tourists may seek something life-affirming and cathartic while visiting these sites, says Boerman, describing the philosophical concept of the sublime. "If you come across something that is so much bigger than you, so much larger than life, you feel your own finitude – but you are actually not in danger, you can walk away from it," she explains. "For some people, perhaps unconsciously, these encounters with death or the places of death make them feel more alive."
Explore death from a distance
Reducing this distance from death is at the heart of Crobatia's work and its desire to destigmatize visits to sites linked to death. "Death is one of the most normal, natural things in life, when you think about it," she says. 'You have seen it in your surroundings a lot more [before] … Everything is just hidden now. Even being able to wash or dress the body of a [deceased] being loved is just not a normal thing for people anymore.
Crobatia is not alone in seeing the benefit of more visitors to memorial sites. "I've had a lot of conversations with people from the cemeteries, especially in Amsterdam, who… want to involve the community more and the people in their cemetery so that people can come for different reasons and really enjoy the space there – low, "she said. . "I guess I want to break this stigma that these places are scary or dark. They are really just beautiful memorial parks.
10 dark destinations in the Netherlands
Anne Frank House – The secret annex where teenage journalist Anne Frank hid from German occupiers during WWII is the Netherlands' most famous tourist attraction and a good example of a destination that is without any grim doubt, but one that attracts a wide range of visitors due to its historical significance.
Funeral Museum – This small museum located in the charming arboretum of the Nieuwe Ooster cemetery in Amsterdam features various grave goods as well as a changing art exhibit on the themes of mortality.
Bloemendaal War Cemetery – After World War II more than 400 bodies were found in the dunes east of Haarlem, many of which were resistance members executed by the Nazis. Some have been returned to families, others now rest in this cemetery, a monument to the sacrifices they made. Among them is Hannie Schaft, nicknamed "the girl with the red hair".
Rijksmuseum de Gevangenpoort – In medieval times, the guards of this menacing prison in the center of The Hague tortured, punished and executed their wretched captives. The range of sadistic devices they used is on display.
Hotel Oranje – This former WWII prison in Scheveningen whose inmates included Surinamese resistance fighter Anton de Kom, opened as a memorial center in 2019. Cell 601, where death row inmates awaited their fate, has been preserved, along with the inscriptions they carved into the wall as they counted their last days.
Kamp Westerbork – Originally established by the Jewish community to house refugees fleeing persecution in Austria and Germany, Westerbork later became known as the Gates of Hell when it was taken over by the Nazis and used as transit camp for Jews – including Anne Frank – en route to concentration camps such as Bergen-Belsen, Auschwitz and Sobibor. Today, little remains of the original camp remain, but there is a museum and archive center and self-guided hiking and cycling tours around the site.
Kamp Amersfoort Once a barracks for the Dutch army, the site was used in 1941 by the Nazis to incarcerate religious minorities and other prisoners of war, about 70% of whom would be transferred to forced labor camps to which they had little chances of surviving. There is a memorial center and a recently opened museum.
Museum Vrolik – The tradition of curiosity cabinets saw the upward movement competing to collect exotic curios, while scientists' odd specimens frequently drew crowds. The spooky collection of the University Medical Center dates back to the 18e century and includes Siamese twins, a case of cyclopia, and skeletons with rickets and syphilis.
The Weigh House – This museum in Oudewater in the province of Utrecht tells the chilling tale of how rebellious women were weighed to see if they were witches and, if confirmed, then burned at the stake. The museum is best known for its giant 15e Century wooden scales where visitors can weigh themselves to see if they pass the test.
Arthur Seyss-Inquart's Bunker – Devastating plans have been made in this strange underground lair in Appeldoorn that once belonged to Arthur Seyss-Inquart, Reich Commissar for the Nazi-occupied Netherlands. After the war, he was convicted of war crimes against humanity at the Nuremberg trials and sentenced to death by hanging. Visits by appointment only.
Thank you for donating to DutchNews.nl
The DutchNews.nl team would like to thank all the generous readers who have donated in recent weeks. Your financial support has helped us expand our coverage of the coronavirus crisis evenings and weekends and keep you up to date with the latest developments.
DutchNews.nl has been free for 14 years, but without the financial support of our readers we would not be able to provide you with fair and accurate information and information on all matters Dutch. Your contributions make this possible.
If you haven't made a donation yet, but want to do so,
you can do this via Ideal, credit card or Paypal.

[ad_2]