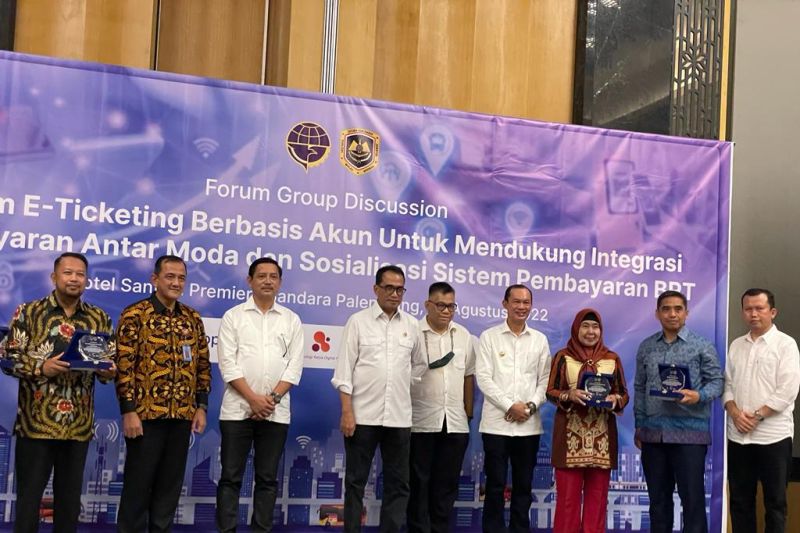 Ministry pushes on-account ticketing system for public transport
Jakarta (ANTARA) – The Ministry of Transport is pursuing an Account Ticketing (ABT) system, which will use an electronic payment system using a single card, for all modes of public transport.
Transport Minister Budi Karya Sumadi said the system will serve as a solution to the problem of a payment system for transport modes, which have still not been integrated and some which involve manual payment.
"The electronic account payment system in intelligent transport is in line with the implementation plan of the central government, which will implement MLFF (Gateless Toll Road) and JBE (electronic road payment), which will also use a digital payment system on account," he informed.
Palembang is set to become the first city to implement account-based ticketing, he said during a panel discussion on "Account-based e-ticketing system to support the integration of intermodal payments and BRT payment system information" in Palembang, South Sulawesi, Saturday.
The ABT system reflects the evolution of the fare collection system from a card-based system to an account-based system, he added. The account-based system will identify ownership of a card once it is registered on the app, so all user transactions will be recorded and documented.
One of the benefits of this type of customization is that it could become the basis for determining government policies and programs, for example, to offer special fares for students, veterans, or special passengers.
Related News: Jakarta Integrated Transport Tariff to be introduced in mid-August
Another benefit of the system is that it will help transport providers move from the old ticketing system involving paper tickets, magnetic stripe tickets and cash payments to a more transparent system.
As for the operators, such a system will be very advantageous due to lower operational costs compared to card ticketing solutions in which transport cards require constant reprogramming.
The Minister also proposed that the integration of the monetary electronic payment system be applied to all transport operators.
"For transport operators, using this system will make it easier because revenue collection will be cashless, meaning nothing is scattered, and I also propose that it is not (just for) formal managers, but we have many private operators who will be immediately included (into the system) to make it better," he said.
He called for the support of all stakeholders in the transport sector, including the banks providing the service of the system.
The ABT ticketing system will also benefit passengers by providing them with the best fare options to meet their travel needs, including the ability to pay for their journey in a modern and convenient way.
He added that the smart transport ecosystem in Nusantara city will also implement the ABT payment system, thus the whole transport payment ecosystem in Indonesia will fully use the ABT system in the future.
"The use of this information technology is expected to spark public interest in using public transport in an easy, comfortable, affordable and safe way," he said.
Related News: Jakarta Anniversary: ​​TransJakarta Announces Special Rp1 Bus Fare
Related News: Jakarta approves Rp10,000 as tariff for embedded transportation cost