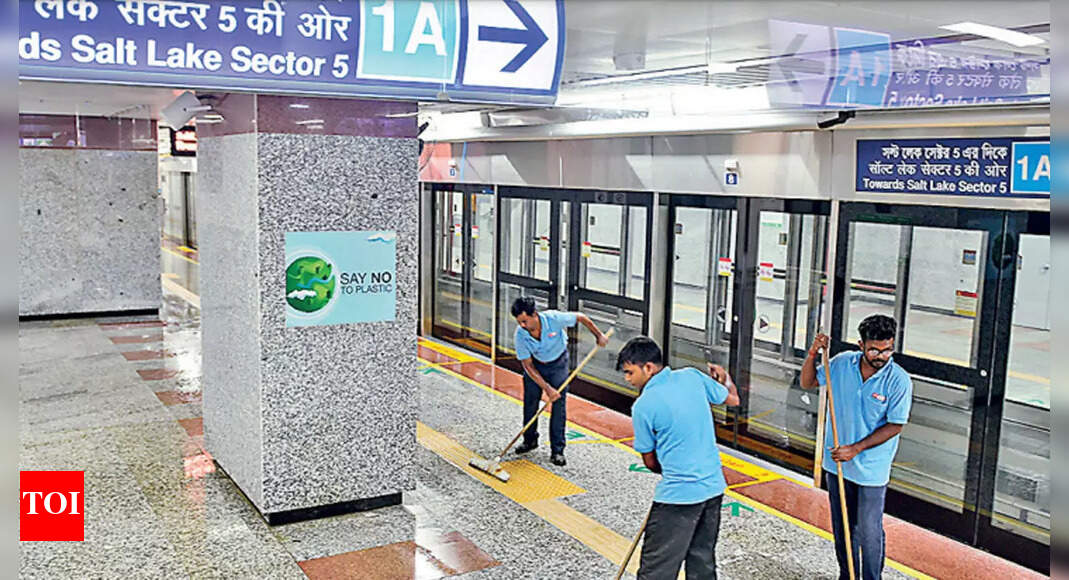 Kolkata: From today, V-Sealdah area public transport travel time reduced from 1 hour to 20 minutes | Kolkata News
KOLKATA: Residents of Salt Lake and New Town look forward to Thursday, when the Metro East-West is finally ready to get his "meaningful" connection to the heart of Kolkata.
The 2.3km East-West Metro Phoolbagan-Sealdah connection will provide a huge boost in shuttling between the two satellite townships and the city center which the launch of the 5.5km Sector V stadium -Salt Lake of the corridor on February 14, 2020 or the 1.7 km extension of Phoolbagan on October 5, 2020 could not quite realize.
Karunamoyee "centerpiece" station is located right next to the Piyali Basu housing complex in Salt Lake. "When the East-West Subway opened to much fanfare two years ago, we were thrilled that Salt Lake was finally on the subway map. said the head of tourism. However, things are expected to change from Thursday. "Now that the Sealdah station will be open, all I have to do is cross the road to Karunamoyee station and take a 15 minute subway ride to Sealdah. From there, I will take a car to reach my place of work on CR Avenue," Basu said, relieved that she no longer had to change cars to Kankurgachhi and then Girish Park to take advantage of the metro. "I won't be traveling by the North – South Metro and East-West will help me save 45 minutes in travel time," she added.
Student Pragya Chatterjee is also happy. "All this time my friends called Salt Lake an island. They even joked when we took our subway. Now I can take the subway from Central Park station and walk to college from Sealdah," said said the student of the University of the Presidency.
While Salt Lake residents had until now been cut off from traditional transportation systems for decades, New Town residents' travel difficulties were worse. Those like Ankur Roy Chowdhury, a resident of the CE block of New Town, are forced to spend a lot to get around. "Now I can finally take the metro from Sector V station and reach the heart of Kolkata in 20 minutes flat. highly exorbitant radio taxis or personal service vehicles."
The idea of ​​saving on travel costs plays in the mind of Sayan Debnath from Salt Lake. Until Wednesday, the AJ Block resident divided his journey into three or four modes of transport – rickshaw, car, bus and enforcement taxi, in dire straits – to reach his Zakaria Street and BBD offices Bag. "Not only will I save at least Rs 100 a day, but I will also avoid the ordeal of chasing cars and buses," said Debnath, who works in the property sector.