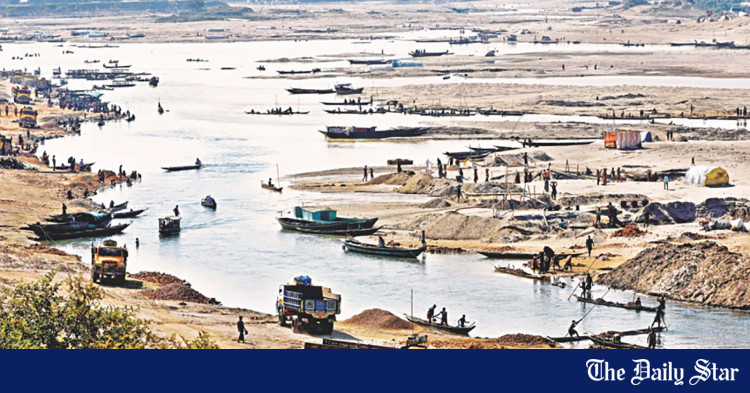 Ban on lifting stones: 48-hour goods transport strike in Sylhet
Goods transport workers and owners have called for a 48-hour strike in Sylhet district from midnight (October 31, 2022).
They have decided to suspend truck, van and covered van services until November 1, demanding the removal of the ban on stone extraction from quarries in the four districts under the division, reports our Sylhet correspondent.
For all the latest news, follow the Daily Star's Google News channel.
The Sylhet Divisional Truck, Pickup Van and Covered Van Owners-Workers Council has also threatened to go on strike in the Sylhet Division from November 3 if demand is not met by then.
Environmental rights activists say rampant stone quarrying has destroyed hills and riverbeds, posing a serious threat to the environment.
Campaigners said the illogical demand from transport workers must not be met.
According to the Bureau of Mineral Development, there are eight stone quarries in Sylhet district – four in Companiganj upazila, two in Gowainghat and one in Kanaighat and Jaintiapur upazilas.
A high-level committee was formed by the Cabinet Division on December 3, 2019 and in accordance with its suggestion, the Energy and Mineral Resources Division ordered on February 18, 2020 and November 2, 2020 to stop all mining of stone, according to bureau reports. .
Shabbir Ahmed Foyez, Organizing Secretary of the Sylhet District Truck Owners Group, said, "There is no other industry in Sylhet. Depending solely on the stone industry, transport owners get involved in this business. at least 30,000 trucks are unable to pay the installments. In addition, millions of transport workers are unemployed.
"Given the fact, we have called for a strike," he added.
The transport chief said: "We urge the administration to form a committee to ensure the manual extraction of the stone by protecting the environment."
Contacted, Md Mozibor Rahman, Deputy Commissioner of Sylhet, said: "A high level committee has been formed recently which is looking at whether stone quarrying should be allowed and if allowed, what would be the method. We urged the transport workers to wait for the committee to rule on the matter."